« Back
WKTJ
Address
Contact Information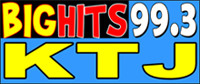 WKTJ has been on the air since 1959, and is the only commercial radio station located in Franklin County, Maine.

We play Big Hits from past to present, with live DJ's, local features and programming, local sports coverage, in-studio guests, and the "world famous" Phone Mart (which airs three times a day Monday through Friday, at 8:50am, 11:50am, and 4:50pm).

WKTJ Big Hits 99.3We are the longest consecutive radio affiliate of the Boston Red Sox in the world!! We've carried Red Sox baseball every season since 1961!!

We appreciate our listeners and advertisers for making us feel a part of their lives every day! As a local UPS driver once said, "I hear every song you play every day because nearly every business I go into has you on!"