« Back
Pins & Needles
Address
Contact Information
Hours
Tuesday – Friday: 10am – 3pm
Saturday: 10am – 2pm
Sunday: Closed
Monday: Closed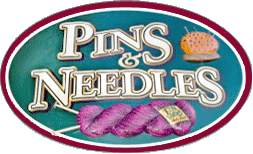 Pins and Needles started in our home as a labor of love for quilting. It all started with a few bolts of fabric and a lot of fun. We converted a perfectly good garage into the shop and away it went.

After purchasing a top notch Embroidery machine as well as a Long Arm Quilting machine, space was getting a little tight. Soon it had also completely taken over the entire basement and was creeping into the house.

Now we've moved and are expanding into selling online.

A great two-story location right on Main Street in Farmington Maine. We had been looking for the right location for some time and we sure found it. It's filled with wonderful products and we didn't lose the "at home feel".

We have a nice sitting area to relax and sew or your company can read while you shop. It's our way of keeping our shop feeling homey.

We have thousands of bolts of great fabric and our yarn selection is vast but the best part is it's all fine quality. So come feast your eyes when you're in town.

We love yarn! Come see our huge selection of wool, alpaca, llama and more!!!
The huge downstairs has recently been completely renovated to accommodate all the class "room" anyone would ever need. Check out our current class schedule in our Classes link

Being downtown, we really enjoy all the visitors to our shop. Please stop by if you just have a question about a project or if you are "stuck"... we love to help (that's the fun part)

And a special thanks to our friend Laurie who (for some reason) seems to love the chaos of doing the Quilt Show every year. Thanks for being there.

So come by and see us!